Natural Gas Explosion Investigation
When incidents occur with an explosion involving natural gas and propane, evaluating the causes of the explosion can become complicated.
Natural Gas Explosion & LPG Explosion Investigation
Propane is a hydrocarbon that is typically stored under pressure as a liquid and used as a gas for residential, commercial, or industrial purposes. Commercial propane is not pure 100% propane (C3H8); it is more accurately referred to as Liquefied Petroleum Gas (LPG). Its properties allow it to be transported in a concentrated liquid form, and then easily converted for use as a gas.
Propane is transported by pipeline or truck to local storage facilities. The National Fire Protection Association (NFPA) writes guidelines for the transportation and use of propane gas in NFPA 58 (also known as the LP Gas Code).
Propane gas is odorized with a sulfur compound called ethyl mercaptan, that gives the propane its recognizable gaseous (rotten egg) smell, and its concentration can be measured and easily quantified by specialized laboratories to determine if the propane meets federal standards.
Bison Engineering understands the complexities that come into play when gathering evidence and analyzing data should an LPG explosion occur. Our experienced team of engineers are prepared to assist you in finding the cause of your explosion and understanding the environment in which it occurred.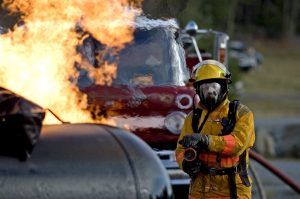 How a Natural Gas Explosion Investigation is Handled Matters
Compiling the necessary facts and discovering the cause of a natural gas explosion is essential, just as essential are the techniques used to determine our findings.
Bison Engineering routinely obtains gas & propane samples for laboratory evaluation. The Department of Transportation requires specialized training to take and ship propane samples. Few companies are equipped to obtain gas samples to determine odorant concentrations accurately. Bison works with a network of leading chemists throughout the United States to help identify additional properties of the odorant if necessary.
Once the gas enters a home or facility, NFPA 54, a code that provides specifications for the installation of gas lines and appliances, comes into play. NFPA 54 is also known as the National Fuel Gas Code. Bison Engineering works with numerous other codes and regulations regularly, and is familiar with their historical use and development.
We have the knowledge and experience to provide professional analysis to lawyers and insurance companies that can help determine the cause of the natural gas explosion.
Bison Engineering is committed to gathering the necessary data and findings for your best possible outcome by compiling extensive, accurate data points:
Considering each possible scenario
Examining different components, the surrounding areas and environmental variables that can lead to failure
Conducting testing programs to attempt to duplicate the scenarios of incidents
Collecting these pieces of data are instrumental to our processes, rooted in science, and designed to provide accurate, factual accounts of the events in question. Fire and explosion tests are conducted at a remote facility maintained for that purpose with results recorded by specialized computer monitoring equipment. As needed, results are illustrated for juror review using the highest quality computer graphics. Bison engineers are also available as expert witnesses who present facts clearly and with authority during courtroom testimony and cross-examination. This combination of experience and expertise continues to be an invaluable resource for the company's clients and has resulted in many favorable judgments when findings have been presented to juries
The Authority for Your Forensic Needs
Our staff of engineers possess more than twenty-five years of experience in investigating natural gas and LPG Fires and Explosions.
Your Natural Gas and LPG Explosion Expert Witness
Bison Engineering can provide expert testimony for your case involving natural gas/LPG explosions.
Our years of experience helping clients articulate their cases with clarity through facts enables you to describe your case to a jury in a way that is easy to digest and accurate with every point.
Contact Bison for Your Natural Gas Explosion Investigation Needs