Beware of Construction Defects
Forensic Engineering and Construction Defects
Construction defects come in many shapes and sizes. They can involve a multitude of engineering disciplines. Fortunately, Bison Engineering is able to provide you with experienced engineers to investigate almost every aspect of construction defects or improper construction management.
When it comes to the support, structure, and envelope of a building, our civil engineers have got you covered. They have investigated foundations for settling issues, framing for support failures,  windows and brick facades for proper installation.  Inspections of roofs for flashing faults, chimneys for lightning strikes, and building envelopes for leaks. The figure below shows a failing foundation support that resulted from an improperly constructed retaining wall.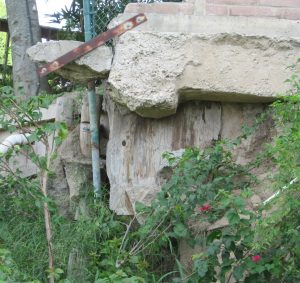 Figure 1. Unsupported Foundation.
While our civil engineers can investigate the structure of a building, we have other engineers that can investigate all of the unseen parts of a building. Bison's mechanical and electrical engineers can investigate a structure for failure issues relating to the Mechanical, Electrical, and Plumbing (MEP) systems. Our engineers have investigated residential and commercial building plumbing, from the sewer under the foundation to the vent lines in the attic and all of the pipes in between.
Bison can also investigate a building's HVAC system for proper installation and sizing – improper installation can result in poor performance and added costs. Additionally, we can investigate a building's entire electrical system. Bison's engineers can determine if the wiring in the building has been installed correctly and conforms to local codes and regulations. After nearly 30 years of working with the National Electric Code (NEC), Bison's engineers are adept at identifying what is proper and what is not.
We can trace and identify water leaks, identify code violations, identify owner vs. utility responsibilities, and discuss what may or may not have contributed to the failure incident.
Call today to see how we can investigate a construction defect that is involved in your case!
By Shane Darville, P.E., CFEI